Title I & Response to Intervention
Stark County Elementary School
Response to Intervention (RtI) Building Plan

What is RtI?

RtI stands for Response to Intervention. It is a school-wide, systematic process of interventions designed to lead to school success for all. This comprehensive service delivery model is designed for general education students who are having difficulty with the general core curriculum or maintaining appropriate school behavior. A building-based team provides intervention, support and monitoring of students' academic, social-emotional and behavioral needs. Although not required, parental involvement is an important element of the program. The main goal is to promote student success by delivering research-based interventions and using students' responses to these interventions to determine instructional needs. Special education can be a product of this process but is NOT the primary goal.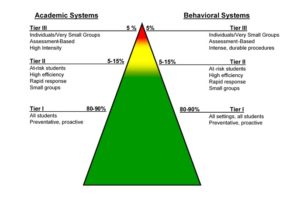 Vision Statement

We believe…
All students can learn if provided appropriate research-based curriculum and instruction, time and support.
Early intervention is the key to student success.
Collaboration and use of a problem-solving model is an effective method for decision-making.
Educational decisions should be made based on data collected through screening, progress monitoring, diagnostic testing and teacher input.
Use of a multi-tiered model for interventions provides students with appropriate individualized educational support.

Objectives
100% of students requiring assistance will be provided appropriate interventions/instruction
Screening data will be recorded on all students
90% of students entering RtI will successfully return to the general education curriculum or will make appropriate gains with continued RtI support

Screening & Progress Monitoring Plan

Kindergarten through 5th grade students will be screened for reading and math using STAR assessments three times a year (fall, winter, spring).
Teachers may also use running records from the McGraw-Hill Wonders to monitor reading fluency.
Classroom data and observations will be used to identify focusing and hyperactivity issues.
Data from PARCC, LLI, Lexia, and classroom assessments will also be used to make decisions.
Office referrals and attendance records will be used to screen for other specific behavior issues.
Academic Intervention Plan

Tier I – Core Curriculum

Core Instruction (Responsibility: General Ed. Teacher)
Reading: McGraw-Hill Wonders K-5, 400-450 minutes per week or 85-90 minutes per day, including differentiated reading instruction
Math: Pearson Envisions K-5, 55-60 minutes per day

Targeted Tier I Best Practices (Responsibility: General Ed. Teacher)
Classroom teachers will modify or supplement the general curriculum with best practice and differentiated instructional strategies, when necessary, in order to increase student progress. Targeted Tier I best practice may be used with individual students or small groups through differentiated instructional strategies. See Appendix B for a list of instructional best practices.

Monitoring Effectiveness of Core Curriculum (Responsibility: General Ed. Teacher)
Academic curriculum must be implemented with integrity, including differentiated instruction and best practices. This is key to the RtI progress, as it cannot be determined that students are not responding to instruction when it is not being delivered with integrity and fidelity. If less than 80% of regular education students across a grade level are meeting benchmark targets in reading, writing, or math, an analysis of core instruction should be initiated.

Tier II – Targeted Group Interventions

Tier II Interventions and Accommodations (Responsibility: General Ed. Teacher and Interventionists)

Tier II interventions are considered when students are not responding to core curriculum and targeted Tier I best practice. The STAR Team will use the Decision-Making Rules in Appendix A. Interventions should be implemented in addition to the core curriculum. See the Intervention list in Appendix B as a reference in determining which interventions to use. Consider accommodations at this time and document all accommodations on the Student RtI Form, which should be completed for each student on Tier II, for each area of concern, by an interventionist and current teacher.Collect data and indicate which accommodations have been provided and look at effectiveness of accommodations. Clearly identify the skill(s) that need addressed and create a goal. Tier II students will be progress monitored at least twice per month to measure responsiveness to the interventions being delivered. The intervention and progress monitoring tool should match and measure the same skill. Teachers should communicate progress regularly with parents.Tier II students should receive 8-10 weeks (25-32 sessions) of intervention. General education teachers will inform parents that the student will be receiving these interventions, with a formal notification done by the STAR Team. The Tier II student participates in small group instruction based upon instructional needs. Groups meet 4-5 times per week, 20-30 minutes per session.

Tier III – Intensive, Individualized Interventions

Referral to RtI Building Team (Responsibility: General Ed. Teacher)
Contact the parent and complete the RtI Team Academic Referral Form (Appendix C). Use the Decision Making Rules to ensure student meets criteria. Submit the Intervention Team referral to the principal. All Tier II data should be attached to provide support and documentation of interventions and accommodations implemented.

RtI Building Team Meeting (Responsibility: Intervention Team)
Pre-meeting activities take place. These include parent involvement, including meeting notification and explanation of the RtI process. Diagnostic testing may be considered prior to the meeting to provide insight into the nature of the problem.The RtI Building Team, including the student's parents, meet to develop a Tier III plan for the student. An individualized goal is created targeting a specific deficit area and intervention options are brainstormed as a team. A Tier III intervention plan is created and a copy is provided to the parent and to those who work with the student. Data is collected over the course of the intervention and a follow-up meeting is set with the RtI Building Team to review progress. The RtI Building Team will use the Decision-Making Rules as a guide in determining how to proceed with Tier III interventions.

Tier III Interventions and Accommodations
Tier III students receive 8-10 weeks (32 to 50 sessions) of interventions. These are small-group or individual instruction with no more than 2-3 students who have similar instructional needs share similar instructional strengths and weaknesses. The group meets 4-5 times per week, 25-30 minutes per session. This intervention is in addition to the student's Tier II intervention or could replace the Tier II intervention if it is an explicit, intensive intervention that is provided 60 minutes/day. Continue to document accommodations and their impacts. Interventions should now be documented on student's Tier III Intervention Plan by student's interventionist.
Roles & Functions of RtI Teams

STAR Team: The STAR (Stark Title and RtI) Team is responsible for designing and delivering Tier II and Tier III academic interventions. This team is made up of the RtI Coordinator, interventionists, and classroom teachers.

Behavior Team: The Behavior Team is responsible for providing support for teachers to meet the social and emotional needs of students. This team is made up of the school principal, social worker, school psychologist, RtI Coordinator, and teacher representatives.

RtI Building Team: When students have failed to respond to Tier I and Tier II interventions, they may be referred to the RtI Building Team. The RtI Building Team is made up of a combination of regular education staff, special support staff, and the child's parents. The RtI Building Team follows a systematic meeting flow in the development of an intervention plan. The team will engage in the problem solving process, develop intervention plans, monitor progress, make data-based decisions about students, and refer for special education entitlement when appropriate.

RtI Building Team Assigned Roles:

Team Coordinator – schedules, organizes, maintains paperwork, works with teachers and interventionists to plan interventions and ensure integrity of interventions
Facilitator – runs meeting and follows problem-solving steps, keeps time
Record Keeper – records, copies and disseminates meeting notes
Referring Teacher – gives input and provides data
Interventionist/STAR Team representative – provides information about interventions and student data
Education Resource – provides information for appropriate interventions, testing, etc
Parent – provides input
RtI Building Team meetings will be held as needed to work on implementation of the building plan, communication to internal and external publics, and for meetings on individual students in Tier III.
The RtI Building Team will provide resources & support to staff (resource kit, professional articles, etc.).
Files will be kept in the principal's office.
Parent Involvement

Communication with parents regarding student performance is important for all children. This is especially true with RtI. Teachers should communicate assessment data with parents and explain why and how their child will receive interventions. Parents will also be a part of the Building RtI Team at the Tier III level.

All parents receive information on RtI through the Parent-Student Handbook and SCES website.
Parents will be contacted regularly throughout the process and informed of intervention and progress by phone calls, letter, and data graphs.
Parents should become part of the problem-solving team in Tier III. Active participation is encouraged. If a parent is unable to attend, copies of the team notes will be sent home.

Evaluation of the Program

The following data will be collected to assess effectiveness of the program:

Number of students in Tier II and Tier III at each quarter during the school year.
Number of problem solving referrals for Tier III during each quarter
Number of special education referrals during each quarter
Number of students referred and found eligible for special education services
Parent attendance at Tier III meetings

Affirmation Statement

The team will remain student-focused and make the best possible decisions in each individual case. Participants will follow the problem-solving steps to make decisions. Interventions and data collection will be implemented with integrity. The team will make its best effort to involve parents in the process and provide support for students with research-based curriculum & interventions.